L'Affaccio
"L'affaccio" is a comfortable and elegant holiday's house which is situated in an incredible scenario like "Sassi di Matera". It is the result of a recent, accurate restyling of a building which was build at beginning of the 900'. Situated in a place where there is a church, the Church of Saint Biagio located in the historical centre of the city (Matera), l'Affaccio is a perfect aim for people who truly love art, in fact white walls of the house are decorated by "Mani nell'arte",a small, cute shop and gallery di Angela Difonzo.
Services
Having still these characteristics outside and inside, it has all modern comforts ( heating, air condition, digital led tv, free internet, blow dry, bathroom accessories, underwear, kitchen use with an extra cost) for each single room.

No smokers area.

Children: children under 2 year old for free (in parent's bed).
Reservation: for making a reservation is necessary to send an email writing all details ( number of rooms, date in and date off, a valid guest credit card's number.
In occasion of particular festivities and events rooms' price published on the website might be different.
Animals are not admitted.
Prices
Check in dalle 17.00
Check out entro le 10.00
It is widely delighted notice if you arrive after 08.00 p.m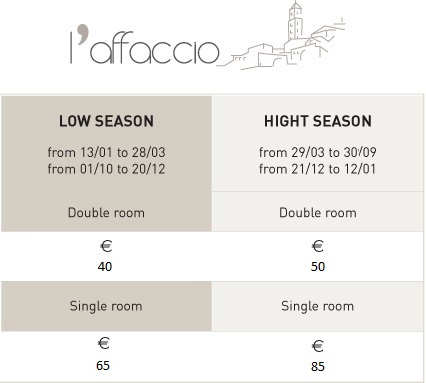 "For reservation for more that a person or more that three nights please contact us by mail for enjoying some discount"